"… just when we think we have a character or an aspect of them figured out, BoJack Horseman reminds us that everything is not black and white."
---
This article contains spoilers for BoJack Horseman.

Before the sixth season, the last time we see the character of BoJack Horseman (Will Arnett) he is finally turning himself in to rehab after an especially difficult string of events caused by his excessive drinking and addiction to painkillers (following an accident on the set of his TV show, Philbert). It becomes increasingly harder to want to root for him, which is undoubtedly on purpose. Time and time again we see him ruin relationships, put other characters in danger because of his actions, and generally treat those around him poorly.
The first part of season six, the last for the Netflix series, follows BoJack to rehab as he begins the long and painful process of reckoning with the damage he's caused to not only himself, but many others over the course of the series. He specifically feels immense guilt over the death of Sarah Lynn (Kristen Schaal), his former co-star of Horsin' Around – the 90s TV show that made him famous. BoJack reluctantly became her father-figure in real life, which became complicated and messy when Sarah Lynn turned out to be addicted to alcohol and drugs herself. He knows that he could have prevented her overdosing, and it haunts him.
In the notably poignant season opener "A Horse Walks Into Rehab", BoJack is still making reckless decisions and pointing out the faults of those around him in an effort to avoid addressing the root of his own problems. Throughout the episode, we get glimpses into his past relationship with alcohol through flashbacks. Each instance seems like it could have been BoJack's first introduction to alcohol – a clear line to when and where his problem began – but as the flashbacks progress the dark truth that the root of his addiction lies with his parents is evident.
The flashbacks are spread out through the episode, not fully revealing the extent of the problem until the very end in a gut-punching manner. It is a perfect example of the emotional structure of the show; just when we think we have a character or an aspect of them figured out, BoJack Horseman reminds us that everything is not black and white. Like Diane (Alison Brie) says when she drops BoJack off at rehab, "there's no such thing as good guys and bad guys".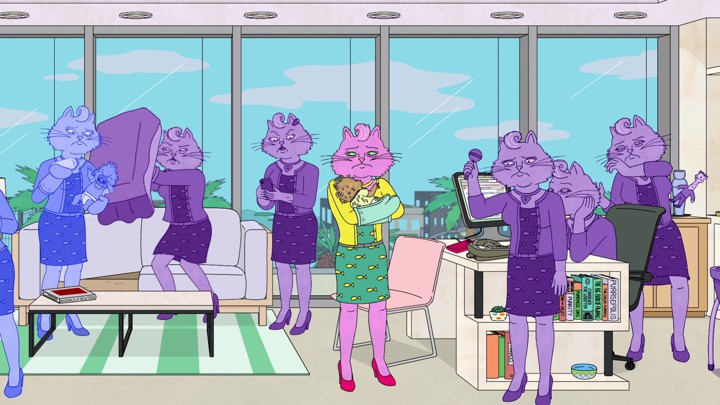 While BoJack is coming to terms with his addiction, the other characters are dealing with their own suppressed issues that have been building over the course of multiple seasons. In episode two, "The New Client", Princess Carolyn (Amy Sedaris) realizes that motherhood is not everything she thought it was going to be. She has so much going on that she ironically struggles to make it to a photoshoot for women who "have it all". The different facets of her stress are represented in the episode by muted, ghost-like versions of Princess Carolyn who surround her and do their various tasks to a suffocating degree. With the visual representation of all that she has to juggle, it's an overwhelmingly effective way for the audience to feel what that pressure is like.
Mr. Peanutbutter (P.F. Tompkins) copes with his own guilt about cheating on his girlfriend Pickles (Hong Chau) with ex-wife Diane and goes back and forth about whether or not he should tell her. For a character that is typically the comedic relief, this is the first time we really see him become aware that maybe he is not the all-around "good guy" he presents and believes himself to be. Meanwhile, Diane has her own journey of self-realization when she decides that maybe there is a way for her to try to be happy without punishing herself for trying.
Within the first few episodes of the season, it becomes clear that the common theme threading all of the characters and their respective storylines together is acceptance, which, appropriately, is the first step to recovery. After everything they've gone through, there is an evident growth and self-awareness with each of the characters that makes their efforts to better their lives feel earned. In a particularly vulnerable moment, BoJack admits he "wasted so many years being miserable, because he thought that was the only way to be". Although the series has never shied away from exploring how deeply problematic BoJack is as an individual, it isn't trying to force a redemption arc for the character. With the rest of the season yet to be released, we don't know if (or how) BoJack will attempt to redeem himself. What does remain clear is that BoJack Horseman continues to balance beautifully nuanced storytelling with some of the cleverest visual jokes and best comedic payoffs in current media, and will do so until the end of its run.
Season 6 Part 2 of BoJack Horseman is set to premiere on Netflix on January 31st, 2020
Directed by: Peter Merryman, Amy Winfrey, Mollie Helms, Adam Parton, Aaron Long
Produced by: Will Arnett, Aaron Paul, Raphael Bob-Waksberg, Steven A. Cohen, Noel Bright
Cast: Will Arnett, Aaron Paul, Amy Sedaris, Alison Brie, P.F. Tompkins
Release date: October 25, 2019
Available on: Netflix