The changing leaves and crisp autumn air can only mean one thing: it's officially spooky season. As the ghosts and ghouls come out in full force, it's the perfect time to curl up with a cozy Halloween film. My favorite Halloween movies give me that same warm, fuzzy feeling I felt as a kid dressing up and getting ready to go trick or treating. As a kid, nothing felt more in the spirit of the holiday than watching Disney Channel. Disney Channel has had a long tradition of its Halloween themed television movies playing every October. Disney Channel's now-classic collection of spooky movies is essential viewing every Halloween, so I've decided to rank every one of them, to help you know which ones to prioritize in your Monstober re-watch. The films included in this list must have been made for Disney Channel to constitute being a Disney Channel Original Movie (DCOM), so sadly no Hocus Pocus or Tower of Terror. I'm not including anything that initially premiered elsewhere and was adopted by Disney Channel later (that means no My Babysitter's A Vampire or Mostly Ghostly), and the film has to have been released in October and not just feature spooky elements (Zombies is cute, but it's not a Halloween movie).
13. Girl vs. Monster (2012)
On the eve of Halloween, fearless Skylar (Olivia Holt) learns that she comes from a long line of monster hunters after she accidentally releases a horde of terrible CGI ghouls. It's up to Skylar to conquer fifteen years' worth of fear to vanquish her monster and save her friends. Girl vs. Monster showcases all the worst stereotypes of a DCOM – bad acting, cringe-fuelled dialogue and unnecessary singing – not even the Halloween setting could save it.
12. Invisible Sister (2015)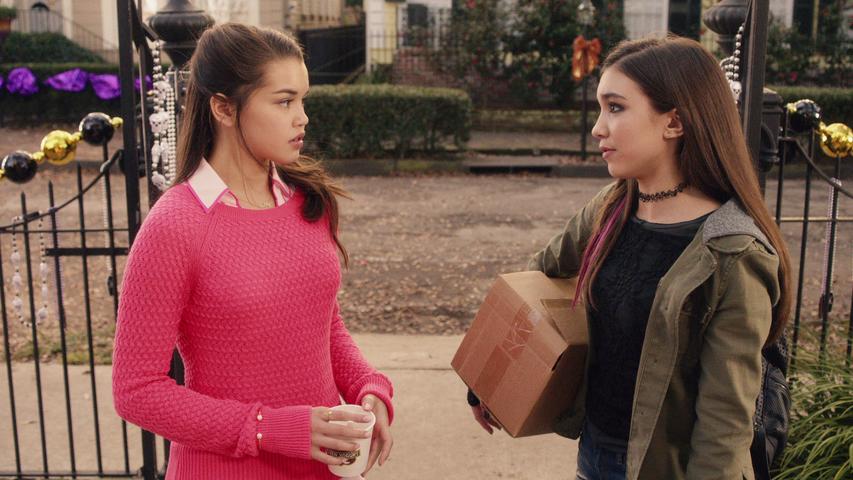 Introverted science wiz Cleo (Rowan Blanchard) lives in the shadow of her more outgoing and popular older sister Molly (Paris Berelc). After Cleo's science experiment goes awry, Molly becomes invisible, and Cleo is forced to pose as her sister while also trying to find a cure. The sister relationship at the center of the film is endearing, but the use of the Halloween setting leaves a lot to be desired. I appreciate the inclusion of a woman in STEM, but I can't condone the science that happens in this film (stop taking off your goggles!). As far as DCOMs go, Invisible Sister is a sweet story about confidence and sisterhood, but as a Halloween movie, it's pretty mediocre.
11. Return to Halloweentown (2006)
The black sheep of the Halloweentown series, and for many children their first experience with betrayal. For this fourth instalment in the franchise, Kimberly J. Brown is recast and instead Sara Paxton portrayed eighteen-year-old Marnie Piper as she began college at 'Witch University'. Not only does Paxton's performance pale in comparison to the original, but she's an entirely different version of Marnie: not the capable, headstrong witch she once was. This film side-lines most of the characters we've come to love, having Debbie Reynolds as our beloved Grandma Aggie only appear as a brief cameo. Everything about Return to Halloweentown is a step backward from the development we see in the previous films. An unfortunate ending to an otherwise charming and inventive franchise.
10. Under Wraps (1997)
As the first-ever official DCOM, Under Wraps has cemented itself in Disney Channel history. Three kids accidentally awaken a 3000-year-old mummy, and if they don't return him to his sarcophagus by midnight on Halloween, his soul will be lost forever. Some parts hold up better than others, but Harold the mummy getting into modern-day hijinks is always delightfully goofy. Under Wraps employs all the usual trappings of a 90's kids film, complete with slapstick humor, a random gangster plot and an uncomfortable conversation about celibacy.
9. Twitches Too (2007)
After discovering each other and their supernatural abilities, twin witches Alex (Tia Mowry) and Camryn (Tamera Mowry) return to the magical kingdom of Coventry to vanquish the Darkness once and for all. This sequel takes place directly after the events of the first film, with Alex and Camryn taking up new royal responsibilities and learning how to be in each other's lives. Twitches Too repeats a lot of the same beats as the first film but fails to be as captivating. There are attempts to expand the universe by showing us more of the kingdom, but I would have liked to see more of Alex and Cam learning to use their powers. A light-hearted follow up that's just as corny as the original. However, the mystery remains why it's called Twitches Too?
8. Mom's Got a Date with a Vampire (2000)
Mom's Got a Date with a Vampire is a movie where two kids pimp out their mom so that they can have a night out. Unfortunately, the stranger they email with the username 'Wolfbane' turns out to be a vampire, so they have to get to their mom before she's turned into his vampire queen. The cast is stacked with familiar faces and everyone turns out fun performances. Caroline Rhea has such a fun time as the titular 'mom', a recently divorced woman rediscovering herself, while Charles Shaughnessy is delightfully evil as Demitri the Vampire. Although some aspects are outdated, Mom's Got a Date with a Vampire has great spooky music and scary visuals, and still holds up as a horror movie for kids.
7. Phantom of the Megaplex (2000)
Okay, so I'm breaking my own rules because this came out in November. Still, while not technically a Halloween movie, no Halloween DCOM list is complete without Phantom of the Megaplex. A loose adaptation of The Phantom of the Opera, this film follows seventeen-year-old Pete Riley (Taylor Handley), who is super serious about his job at the movie theater. When a masked phantom starts causing trouble on the night of a major movie premiere, Pete has to work with his movie-loving siblings to get to the bottom of the theater's strange occurrences. It's a fun, light-hearted story that presents a fun twist to a classic mystery. Moreover, Phantom of the Megaplex is an ode to film lovers. Between the kids' endless movie references and Mickey Rooney as a character called Movie Mason, this film is a love letter to the magic that cinema brings into our lives. Phantom of the Megaplex is essentially a 90-minute episode of Scooby-Doo, and deserves to be included in your Halloween watchlist.
6. The Scream Team (2002)
I had never seen this film before making this list, and I can't believe I missed this one. The Scream Team is everything I want in a Halloween DCOM: a wonderfully spooky premise and a mix of genuine heart along with the usual Disney Channel cheese. After the death of their grandfather, Claire (Kat Dennings) and Ian Carlyle (Mark Rendall) discover an afterlife waystation where spirits go before crossing over to 'the other side'. Their job is to figure out their grandfather's unfinished business, so that his soul can finally rest. The family dynamic is well explored and extremely genuine, with the relationship between the kids and their dad elevating this film from other similar DCOMs. The plot becomes convoluted by the end, but the exploration of death and the afterlife is creative for a children's film.
5. Don't Look Under the Bed (1999)
Widely regarded as the scariest of the DCOMs, Don't Look Under the Bed is a horrifying fever dream straight out of a child's nightmare. A fourteen-year-old girl must team up with her little brother's imaginary friend to defeat the bogeyman – if that sounds strange, don't worry, it gets even stranger. I was surprised to see how well this film holds up with its creepy imagery, and at 22 years old, some moments still make my skin crawl. If you grew up with this Disney Channel classic, it's a fun film to revisit around Halloween. If you didn't, the spooky visuals, dark themes and heart at the center of this film are worth watching even as an adult.
4. Halloweentown High (2004)
A possibly controversial opinion but, I like Halloweentown High! It's not as good as the first two, but I couldn't imagine a Halloween marathon without it. After opening the barrier between the mortal world and Halloweentown, Marnie (played by Kimberly J. Brown, as God intended) chaperones a group of Halloweentown natives as they start at a human high school. What ensues are the kind of quirky antics you'd expect from monsters attending high school in the mortal world (they go to the mall! Just like normal teenagers!). I love seeing these characters in a new environment, even if I wish there was a bit more of Halloweentown. There's also an added dimension to Marnie and Aggie's relationship as they butt heads over the family magic, showing the growth that these characters have gone through over three films. Halloweentown High also features the best broom ride scene of the entire franchise.
3. Twitches (2005)
Tia and Tamera play twin witches born on Halloween who use the power of love to save their kingdom from the Darkness. Need I say more? The mythology, the witchy powers, the magical kingdom, Twitches is a certified Halloween classic. Separated at birth, Alex and Camryn become reunited on their 21st birthday. Although they're twins, Alex and Cam's lives are completely different; Camryn lives with her wealthy, loving parents, and Alex is recovering from the death of her single mother. Camryn rises with the sun and Alex stays up until dusk. Camryn has the gift of sight and Alex has the gift of knowing. But when they combine their gifts, their magic becomes all the more powerful. Their bond makes them stronger and brings some rare sincerity to Halloween. And let's not forget that this film has one of the most iconic needle-drops in cinematic history featuring Aly & AJ.
2. Halloweentown II: Kalabar's Revenge (2001)
Halloweentown II: Kalabar's Revenge has all the best qualities of a good sequel. It captures the same creativity of the first film while expanding on the magical world of Halloweentown. The stakes are raised as Marnie must save both Halloweentown and the mortal world all before the portal closes at midnight. It's fun to see Marnie show off some of the magic she's learned since the first film. Halloweentown II follows in the footsteps of its predecessor and delivers on creating equally enjoyable and memorable moments. I still think about Gort's house whenever a lone sock goes missing.
1. Halloweentown (1998)
"Halloween is cool!" Nothing could ever top the magic of the first Halloweentown film. Halloweentown is one of the best Halloween movies, Disney or otherwise. The look of Halloweentown and its creatures is imaginative and still holds up 21 years later, and the musical score captures the childlike wonder of Halloween. The family dynamic is endearing, with Debbie Reynolds' warmth radiating as she brings Aggie to life as the fun, magical Grandma every kid wanted. The explanation of magic in this universe is super sweet and captures the endless possibilities of youth. Halloweentown was influential in inspiring the imaginations of an entire generation. As that generation grows up, they pass down the magic to a new generation to discover. Halloweentown is a Halloween staple and a nostalgic treasure that will not fade from memory any time soon.