Always Be My Maybe is the ultimate feel-good romantic comedy. It may be a little cheesy at times but it is full of charm, and does wonders for representation by showcasing a realistic Asian-American relationship at its core.
Sasha Tran (Ali Wong) is a successful celebrity chef, not-so-happily engaged to a handsome older man, and preparing to open a new restaurant in her home-town of San Francisco. When her fiancé announces that he wants to put a hold on their wedding to date other people, Sasha is understandably upset, but conveniently, she bumps into her old flame Marcus Kim (Randall Park). Childhood sweethearts, the two drifted apart when their lives forked in different directions, but reconnecting as adults, they begin to realise that maybe that spark is still there.
The film opens with a sweet montage of Sasha and Marcus as kids, establishing their friendship and the beginnings of their first love for each other. The children cast as the younger leads are adorable, and their relationship is endearing. As they get to their teen years Wong and Park are aged down with gawky braces and floppy hairstyles, looking ridiculous but hilarious. Their first sexual encounter with each other in the backseat of Marcus' rust-bucket of a car is suitably awkward, the leads not taking themselves too seriously as they play these accentuated teen versions of their characters.
Not taking itself too seriously seems to be a running theme of this film, as what initially seems to be a fairly conventional love story between old friends tumbles into utter absurdity. In the already internet infamous Keanu Reeves scene, Reeves cameos as an extremely profound and intense version of himself. His indulgent rock star entrance is brilliantly extravagant, making complete fun of himself with his deep philosophical meanderings.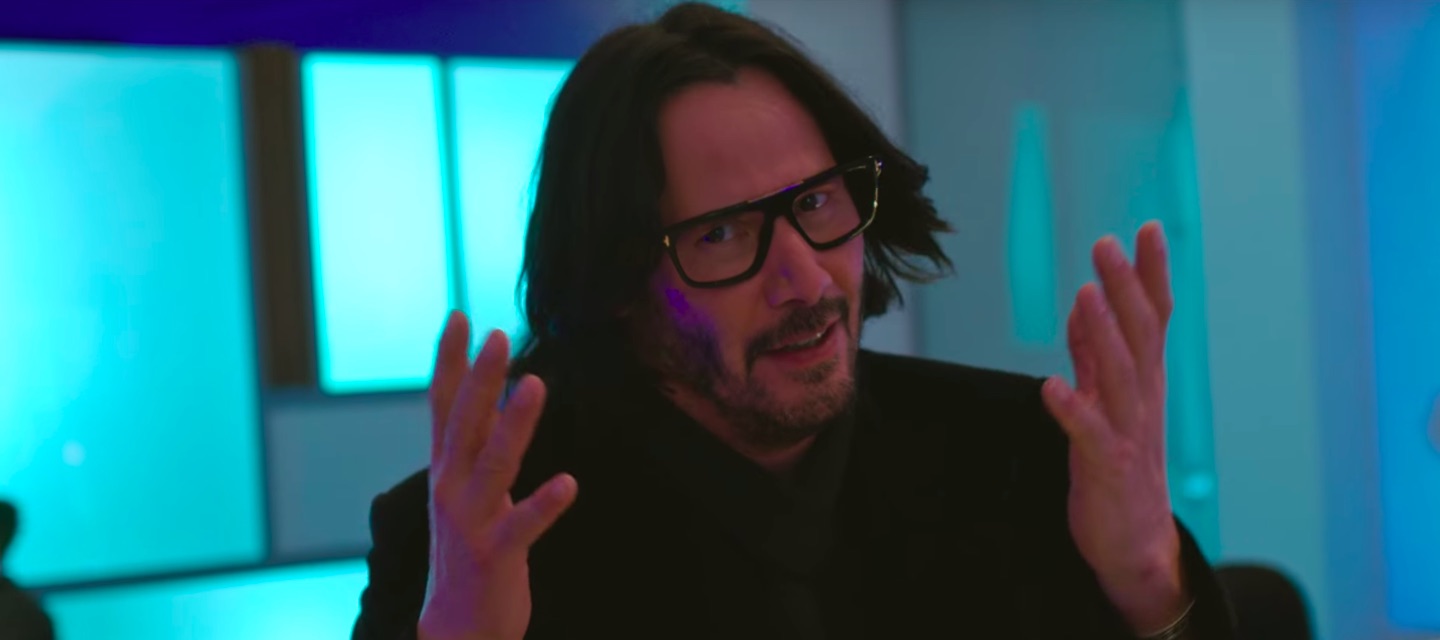 Generally this film is very funny but I did find that some of the jokes fell a little flat. The lead up to the Reeves' scene is quite weak, and a few of the jokes (the Meghan Markle ones in particular) felt like a feeble attempt to be up-to-date and current. Thankfully, the humour finds itself in the second half of the film, as it embraces its sillier side.
Wong and Park have brilliant chemistry. There is a sparkle in their eyes when they see each other, and a real sweetness to their relationship. I love that their characters aren't reduced to Asian-American stereotypes yet still embrace their culture, exemplified by the lovingly prepared food in the film, and little quirks such as Sasha's parents displaying their love for her by paying full price at her restaurant. The opening night of Sasha's restaurant at the end of the film has true sentiment, showing love to her roots in a modern but respectful way.
Always Be My Maybe is a nostalgic look back on first-love as Sasha begins to realise that no matter how passionate and exciting dating hot-shots like Keanu Reeves can be, that fuzzy feeling of home found with Marcus just can't be matched. A sweet, enjoyable rom-com destined to be on that sleepover movie list for years to come.