Recently I wrote about how 'Willow', the closing track from High Life, fuses elegantly with the themes of the film. A well-chosen final piece of music can turn a good film into a great one and a great one into a stone-cold classic. When the marriage of sight and sound is a perfect melding of theme and form, where the music becomes an extension of the mood and tenor of the film rather than an simple emotional guide track, when the music seems to just hit you in the gut: that's the feeling we're looking for.
Here are just five example of great closing tracks improving already excellent films.
'Coming' by Jimmy Somerville – Orlando (dir. Sally Potter)
"I am coming, I am coming, here I am / Neither a woman, nor a man / We are joined, we are one with the human face"
Sally Potter's ground-breaking adaptation of Virginia Woolf's gender-bending novel, starring Tilda Swinton, remains so fresh precisely because it's such a hard film to pin down. We follow its immortal and gender-morphing titular character from Elizabethan England to the modern day, as Orlando attempts to survive the many challenges of each era. It's playful and childlike yet deals with such a breadth of history, experience and ambition. It never feels academic, but always distinctly emotive, so closely in tune with Orlando's ever-transforming emotional landscape. The closing track by Jimmy Somerville is an astonishing marriage of form and content, with Somerville's androgynous falsetto vocals bursting with expression, as if tearing away at the restraints and expectations built around him, getting more ecstatic and fervent as the song progresses.
'Rhythm of the Night' by Corona – Beau Travail (dir. Claire Denis)
"This is the rhythm of the night / The night / Oh yeah"
Unsurprisingly, Claire Denis has form with this sort of thing, and quite possibly is responsible for the greatest film ending of all time. In Denis Lavant, a former acrobat-turned-actor, she may have found the ideal vessel for her endless fascination with the physiognomy of the human body. Where barely a second of Beau Travail passes without its characters living with a burning sense of isolation and desire, its ending sees all of that repressed energy and hunger released, with Lavant's French Legionnaire dancing alone in a mirrored nightclub in Djibouti. The soundtrack is the Europop hit by Italian chart-botherers Corona. For most people it might be a piece of disposable, fun Euro-cheese, but here it turns into an iconic expression of existential loneliness and guilt, the darkness overtaking Lavant's soul.
'Young Americans' by David Bowie – Dogville (dir. Lars Von Trier)
"All the way from Washington / Her bread-winner begs off the bathroom floor / We love for just these twenty years / Do we have to die for the fifty more?"
Like most well-adjusted people, I have difficulty watching a Lars Von Trier film at the best of times. But when he gets it right, he seems to reach…something, some deep nihilistic rage that sits deep inside me. Dogville is one such occurrence: its three-hour runtime is pitched around a sustained note of anger. It's a film which rages at the very moral structure of the world just for having the temerity to exist. In this world, we find rife injustice, rampant hypocrisy and exploitation at every corner. Life seems to be a whole lot of suffering and then – if you're lucky – you die quickly. The ending of Dogville – a violent, visceral reaction against such a world – resonates with me deeply, which probably says more about me than anything. Anyway, to the music – the closing sequence marries Bowie's ersatz 'plastic' soul phase with images of poverty from the Depression up to the present day or so. It may be Bowie's biggest musical misstep in the 70s, but here its very 'fakeness' works in perfect counterpoint to the ugly authenticity we see before us, much like the lies that citizens of Dogville feed themselves in order to ignore the miserable reality they live. It tastes like the bitter, shit-covered cherry on top that Lars wants to feed you. And it tastes good.
'Old Lost John' by Sonny Terry – Stroszek (dir. Werner Herzog)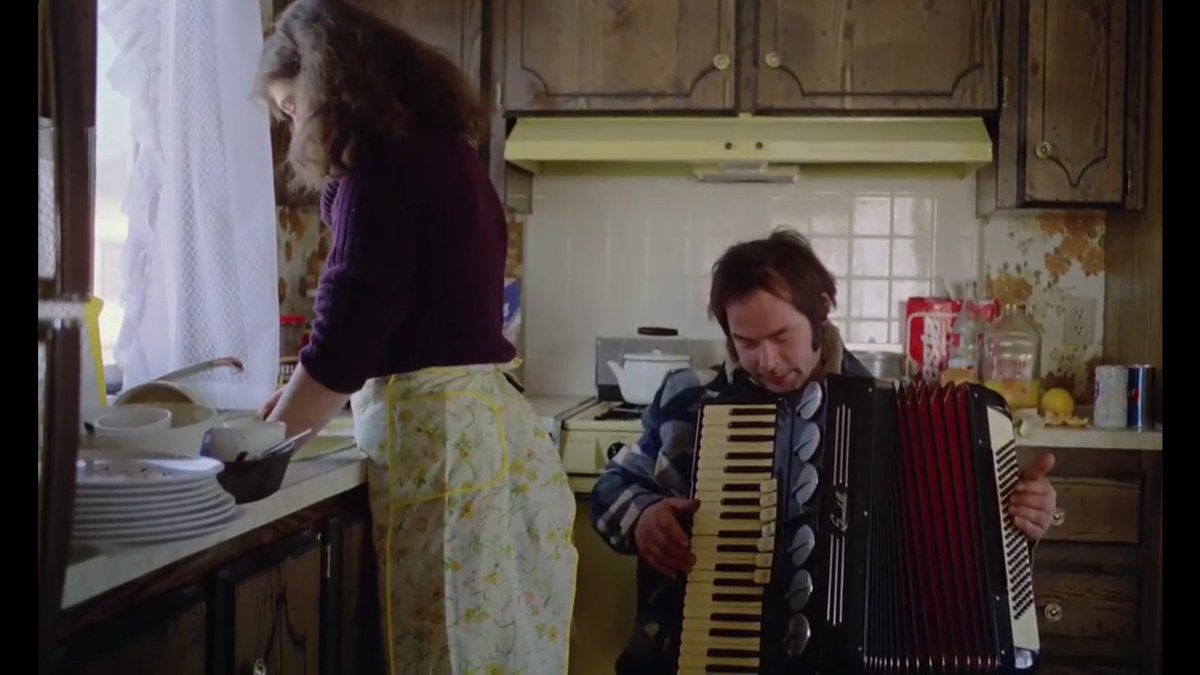 "Woo!"
Famously, dancing chickens and drumming ducks accompany the final images of Werner Herzog's Stroszek. Behind that plays this simple blues track from bluesman Sonny Terry, a harmonica player and singer whose recording career began in the 1930s. He played most often with blues guitarist and singer Brownie McGhee, with the duo enjoying a resurgence of popularity in the 60s folk revival, but Terry is on his own here. It's pure performance and feel, no lyrics, no greater meaning to it.The film is an exceptionally bleak one about the inability of the American Dream to ever give anybody any meaningful happiness – the final shots of animals trapped in cages, dancing on demand, testify to that. The contrast with an improvised blues song feels more like a remark on the long history of suffering (racial and otherwise) that America is built on, as if to express some deeper remnant of the ability of human culture to survive whatever is thrown at it.
'Yeh Duniya Agar Mil Bhi Jaye To' by Mohammed Rafi – Pyaasa (dir. Guru Dutt)
"Where it costs less to die than to breathe / What is this world to me, even if I can have it?"
Now comes something a little more hopeful. A bit of a cheat here, as this song isn't quite the last thing you hear in the film, but it's close enough to the end and forms the emotional climax. Guru Dutt was a legendary Indian director, producer and actor who struggled with alcoholism for much of his short life, but his films deserve to be held as some of the most miraculous, beautiful works of art in cinema history: mixing music, nuclear-level melodrama and a sense of sweeping romanticism that seems impossible to match today. In Pyaasa, he stars as a poor poet, ignored by larger society until he is presumed dead. At the close of Pyaasa he returns to prove his identity, with the audience mobbing him with adoration. But he rejects their love, seeing himself surrounded by crass materialism and individualism, casting off worldly demands to find a deeper happiness. The music matches his melancholy with a wide-eyed wonder, rising from a whisper to a grand roar. Matching that is Dutt's direction of the scene, which is masterful visual storytelling; shifting from iconographic, backlit close-ups, to mass crowd shots of movement and furore as the song reaches its end. Wonderful.
Music, at its best, stirs up emotions within us that are deeply rooted within our personal experience. It sears itself into our minds in association with particular moments, often without us even realising, our abstract responses tearing away from the maker's intentions. But with great filmmaking and great direction, music sears itself into those great emotional wallops in films too. What are some of your favourite closing tracks?