T.W. sexual abuse, child abuse, suicide and addiction
For several years, when asked what his dream role would be, Benedict Cumberbatch would answer with "Patrick Melrose", Edward St. Aubyn's tortured novel character.
Patrick Melrose was finally brought to the screen in 2018, in David Nicholls' limited television series. Cumberbatch, who played the eponymous male lead, won a British Academy Film Award (BAFTA) for his portrayal and yet still the show has criminally slipped under many people's radar. Therefore, it is time to reflect on why this show deserves more recognition.
In the 1980s, we first meet forty-something year old Patrick Melrose as he gets the news of his father's passing. This first encounter sets the tone for the rest of the story and introduces us to a deeply troubled man who we learn more about through quick-paced flashbacks and sequences.
Patrick leads an unstable and solitary life of debauchery, driven by substance abuse, and is haunted with compulsive suicidal tendencies. Having no successful romantic relationships to date, he has settled for effortless one night stands and seems content with the lack of commitment that it entails.
Born into a wealthy but loveless family, he was at a young age at odds with his father (Hugo Weaving), who was a cold and cruel man from whom he suffered various brutal outbursts and assaults. We find out later that this all eventually led to sexual abuse, which the young boy endured for years.
Addiction soon reveals itself to be one of the only ways that Patrick copes with the memories of what he went through. Unable to move on, and too afraid to ask for help, he wastes away and searches for the answers to his unresolved trauma in the temporary relief of countless affairs and hallucinatory fantasies. His life is an endless succession of electric highs and lows, dictated by moments of pure euphoria and daunting desperation.
We only ever see Patrick's younger self, (portrayed by the talented Sebastian Waltz), during a summer spent in his family's estate in the south of France. His mother Eleanor (Jennifer Jason Leigh), a mere shadow of a woman, is constantly day-drinking and his father is mainly absent. Sexual assault isn't explicitly shown, but it is strongly indicated and Waltz does an amazing job of navigating the tension and anticipation of these scenes. The aftermath of the abuse takes a toll on young Patrick and he starts to show suicidal behaviors very early on, a fact that sets a precedent for the years to come.
The five-episode series is dark and ludicrous. We share Patrick's thoughts, and see things from his contemptuous point of view. In that sense, we get a better perspective on his inner demons and the motivations behind his actions. His cynicism stems from a place of distrust in other people. Decades after the traumatic events of his childhood occured, Patrick is still trying to make sense of the cruelty of his father's actions, claiming on numerous occasions that "nobody should do that to anybody else". He has distanced himself from his family and the people he used to know, but that isolation also extends to the current people in his life. Considering himself "not fit for human company", and never truly letting anyone in, Patrick suffers from a lack of emotional support. There are very few people he can trust, and he would rather put up a fragile, stone-cold front than process his deeply hidden emotions.
After hearing of his father's demise, Patrick's reaction is one of hilarity and humorous relief. But the satisfaction is short-lived and, standing over his father's corpse, the anger and resentment builds. It is evident that what could have been a source of closure is merely one of frustration. He feels a justified need for an explanation. But his father is now gone, and with him, the possibility of his wounds ever healing.
Nicholls brings compassion and understanding to his storytelling, when it comes to trauma and dealing with the never- ending consequences of abuse. We witness glimpses of Patrick's great humanity and empathy, he is not one to rejoice in other people's hardships, no matter how heartless he convinces himself to be.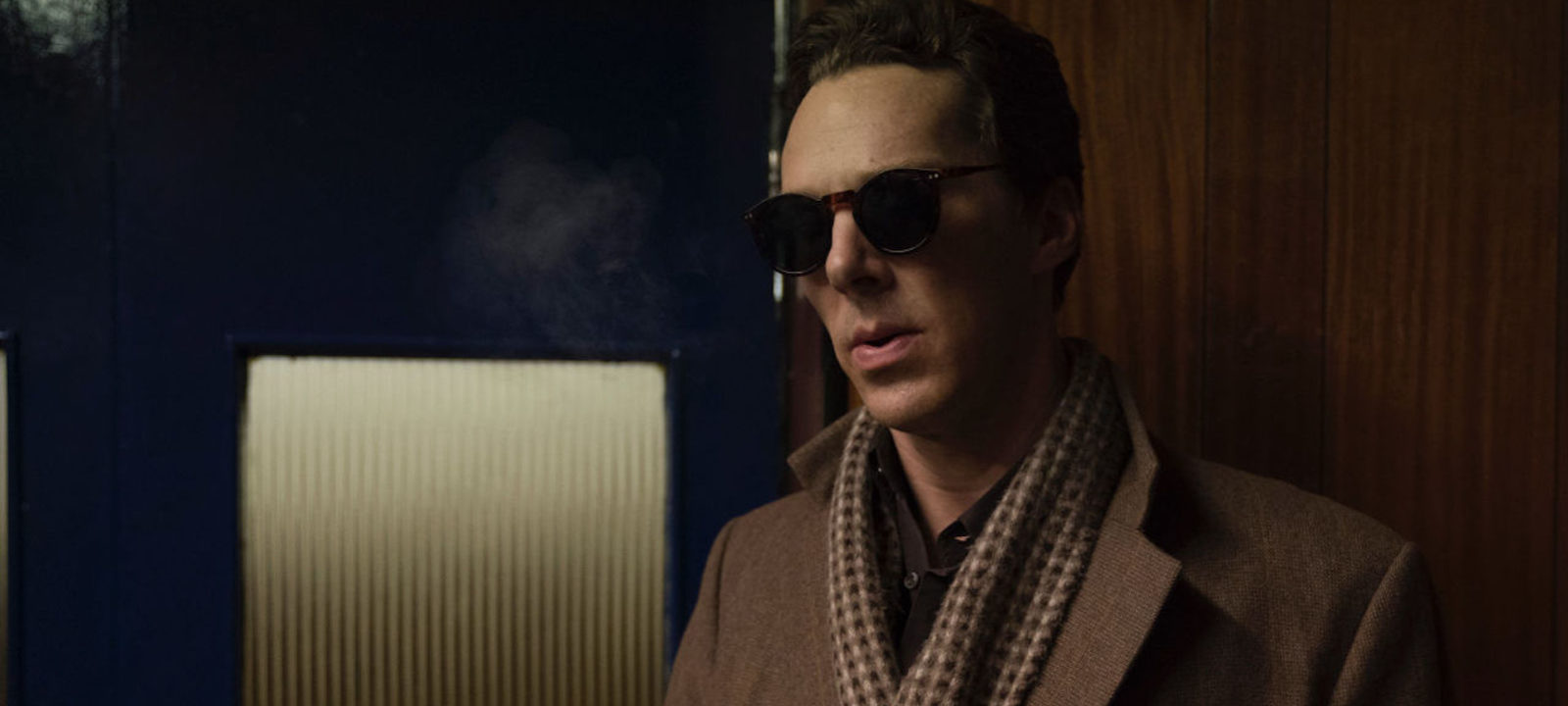 And when he tries to quit drugs and get better, we root for him and his well-being. But it turns out to be harder than expected. Withdrawals exacerbate the manifestations of his post-traumatic stress, and he finds himself struggling to lead a grounded, sober life. He makes the courageous decision of opening up to his best friend Johnny (Prasanna Puwanarajah) about what happened to him as a child. The latter, also a recovering addict, is highly supportive as Patrick describes the details of what is still haunting him, and it feels like a great weight lifting off his shoulders. We see him genuinely happy and serene, his mood lightens a great deal for the first time in years. But nothing is ever good enough of a fix, and even after settling a few years later and having two sons with his wife Mary (Anna Madeley), Patrick struggles with being present and starts relapsing.
His relationship with his mother Eleanor brings a whole new dimension to the story, when Patrick and his family visit her in their south of France estate. His wife, Mary, learns of letter sent to Eleanor from friends who stayed over the summer, including one from an old friend's daughter. In it is clear evidence that Patrick's father had been abusive, with the woman writing forgiving Eleanor for not helping her. Despite the evidence, Eleanor still denies the abuse, insisting on the good nature of her husband. Shaken, Mary suggests to Patrick that he should come clean to his mother about the assault he endured. Finally gathering up the courage to do so, he confesses to his mother about the years of sexual assault, to which she only replies "me too".
When she doesn't offer him any explanation or support, Patrick feels a profound sense of betrayal from the woman who should have protected him but who instead abandoned him at the hands of his tyrannic father. We get a sense that he always suspected it, but buried the prospect of ever blaming her, not wanting to believe it. It is an intense shock to the system, and the resentment and unresolved rage he held close to his heart finally finds an outlet, which sends our character into a frenzy.
It is only in the last episode "At Last", when Eleanor passes away, that Patrick is able to exteriorise all of his anger. Running away from his mother's funeral after breaking down in the middle of his eulogy, he is finally able to confide his wife, whom he detached himself from. He admits at last, after years of living a life of deception, just how much of a "mess" he is, and the experience is both agonizing and freeing. The path ahead is still uncertain and tumultuous, but it is the first solid step in the right direction.
"This is not grief or mourning, this is rage, my heart is racing with it. She knew ! She must have known, even subconsciously. She knew what he was like and yet she failed to do the one thing she was obliged to do, to protect her son! Christ knows, I've been a fucking useless father and a useless husband, and I'm so sorry. But if I thought someone was gonna harm our children, I would fight. Even I would do whatever it takes because when you love someone, you protect them."
We soon see him getting psychiatric help for his constant, insidious suicidal thoughts. He gets diagnosed as a "narcissistic schizoid suicidal alcoholic" and attends group therapy. Although very reluctant at first, Patrick makes some solid progress when he runs away from the rehab facility, only to check back in and be supported by the system.
The series does a great job of denouncing the ease with which people overlook red flags concerning child abuse, and shines a light on how quick people are to turn their eyes away. When confronted with old friends of his parents', Patrick has to deal with comments about how good of a "sense of humor" his father had, indulging him for how "complicated" and difficult a man he was. All the while completely ignoring his predatory interest in children. We get to see Patrick finally stand up to those comments and refuse to let them go unnoticed. The show also highlights the taboo around mental health, and lifts the veil on the stigma that it represents.
David Nicholls' adaptation of the infamous novel does not romanticize trauma, and exposes it with a rawness and honesty that has been missing from television for years now. It navigates the disorganization that comes with unprocessed trauma and the hardships of moving on and building a healthy life. The show ends on a scene from young Patrick, standing up to his father, telling him that what he is doing is "wrong" and that "nobody should do that to anybody else". By doing so, this show brings to light the hope that change can be made, and that enduring isn't the only way to live.